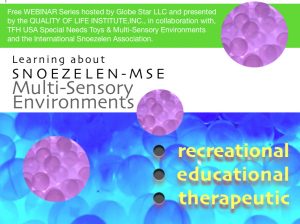 March 15, 2018 Webinar: 12N EDT ::  Sensory Room Considerations, from Concept to Installation
Webinar Series:

Reimagining and Facilitating Multi-Sensory Environments
Join the conversation…inspiration…resources
Presentation of topics is approximately 45 minutes, with some additional time allowed for discussion. These sessions are provided as an educational service to promote the potentials and possibilities for quality of life outcomes, when working with others in multi-sensory environments.
[ENDED]  All are welcome.
Registration

is free.

Congratulations! You've made the decision to put a sensory room in for your students, clients or residents. Now what?

There are quite a few things to consider before the bubble tubes and fiber optics are in the room. This session will provide you with what you need to know as you embark on developing a sensory room. From evaluating your facility spaces to installation, you will come away with practical knowledge that will result in a purposeful Multi Sensory Environment to suit your needs, now and well into the future.
---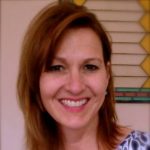 About the Presenter: Karen Pool, General Manager, TFH USA Ltd.
Karen began working with TFH USA in 2006 as a Multi Sensory Environment designer. For over two years, she created designs for schools, hospitals, nursing homes, developmental centers, homes and a variety of other facilities. In 2008, she was promoted to MSE Consultant and worked with these facilities from the beginning of their journey through to installation and follow up care. She has designed hundreds of rooms and has learned the do's and don'ts throughout her 12 years at TFH USA Ltd. She has seen first-hand how the implementation of Multi Sensory Environments can transform the lives of those with special needs as well as their caregivers.
UPCOMING TOPICS: